In today's times, satellites play a critical role in helping humanity. One of the most common uses of these floating bodies is communication. However, did you know that these satellites can also help in natural resource management?
Yes! These satellites are also known as Earth Observation satellites (or EO) and provide data to help us understand, monitor, and protect our environment. Additionally, we can also enable sustainable development, respond faster to natural disasters, and sustainable management of natural resources. They can provide information about many different areas like air quality, crop health, ice thickness, and ocean salinity.
In addition to navigation systems, satellite communication, and geospatial technologies, remote sensing has provided a lot of help for effective natural resource management. Different types of data and information are helping decision-makers and planners embark on providing services for the people. This data can be used to provide solutions at all levels, which makes them very effective. Due to a well-coordinated effort, Earth Observation Satellites can provide many applications for managing Earth's natural resources.
Using Earth Observation and Remote Sensing For Natural Resource Management
Remote sensing has provided many opportunities to monitor and manage natural resources at multi-spatial, multi-spectral, and multi-temporal resolutions. It is imperative to understand the urgent need for specialized equipment to provide imageries and analysis techniques, especially for natural resource managers. In the last few years, remote sensing technology has been used in many different applications in different natural resources like agriculture, water management, wildlife, etc.
With the data availability that spans across so many resolutions, you have the best source of information for large-scale study and application. The data from Earth Observation satellites can be used as input data for many environmental process modeling. With the help of this integrated data, natural resource researchers and managers in the industry will develop different management plans for many natural resource management applications. It is a potential tool that can help study and understand the changes in coastal morphology, forest density, land cover, and even islands' biodiversity.
What Are Some Examples Of Using Remote Sensing Satellites For Better Natural Resource Management?
Remote sensing and environmental satellites have been used in a wide range of fields like:
Disaster management
Agriculture
Urban development and expansion
Geography
Natural resources
While there are many applications of remote sensing satellites, we will cover only the natural resources aspect for now.
Managing Water Resources
Monitoring the water quality is regularly is very important because it is used for human consumption purposes. Currently, water quality is measured in labs in small quantities. While this data is accurate, you do not get the temporal or spatial view of the water quality for managing or assessing the water bodies. Additionally, they are also very time-consuming and expensive. At times, they are not enough for regional and national monitoring.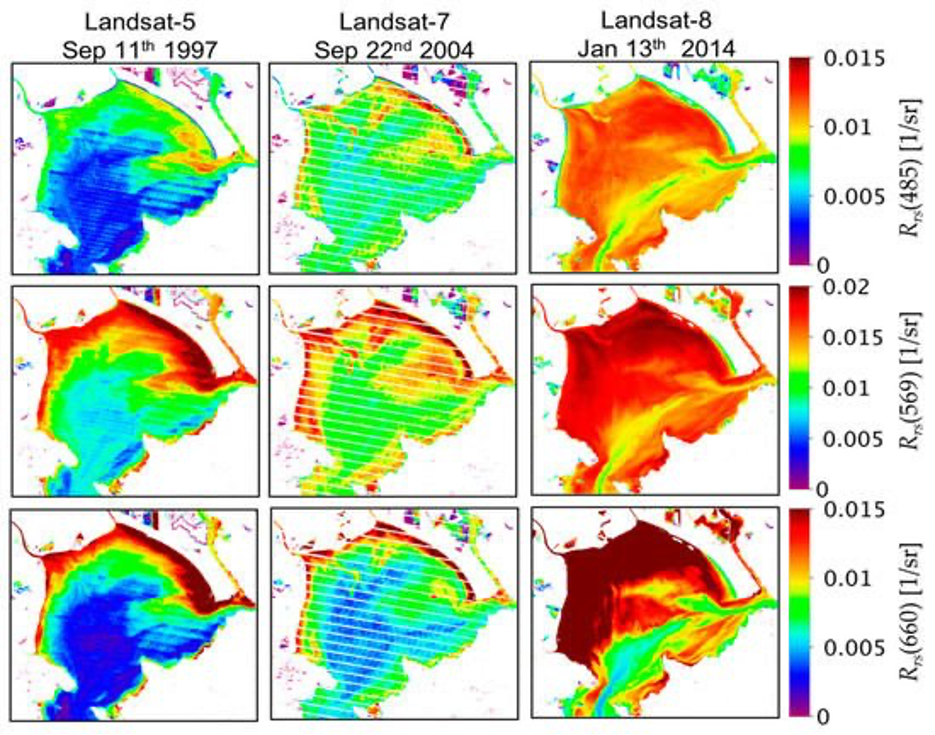 With satellite environmental monitoring, you will get data based on different parameters like temperature, chlorophyll, and turbidity (suspended sediments). Remote sensing has been used to measure the chlorophyll in water both temporally and spatially. The relationship between the concentration of the water sediments and the reflectance or radiance for a site and date will predict the water quality for a long time in the future.
Managing Forestry
For any ecosystem to thrive, a forest is a vital component. Additionally, they also have a huge impact on human lives. However, the world forest has been declining at a very unprecedented rate. Since it is a renewable resource, forest cover can often be generated via sustainable management.
Thanks to remote sensing data and GIS techniques, you can generate data related to forest cover for forestry and wildlife management. Additionally, you will also get information like encroachment of desert-like conditions, human encroachment into protected areas, forest types in a particular area, etc. This data will prove important for developing different forest management plans and help in decision-making so these policies can be implemented. Remote data can also help you study and monitor sites' status and sustainability for particular species of animals for multi-criteria analysis and study.
Finally, Monitoring Wildlife
Sharper images via remote sensing have revolutionized how scientists and researchers study the behaviors of wild animals. Earlier, animals were fitted with telemetry devices linked to satellites and recorded different types of data like movement, etc. However, these devices were not very accurate when it came to providing data.
Researchers and scientists have been using remote sensing technology to study different data types like how animals respond to climatic changes and other animal individuals/groups in the past few years. With this data's help, researchers can also predict how wildlife will fare as climatic change becomes a more severe threat. Remote sensing technology and other tracking gadgets are often used together to get the most accurate data for natural resource management and monitoring wildlife.
It's clear that observing Earth with remote sensing satellites is the future for most industries worldwide.