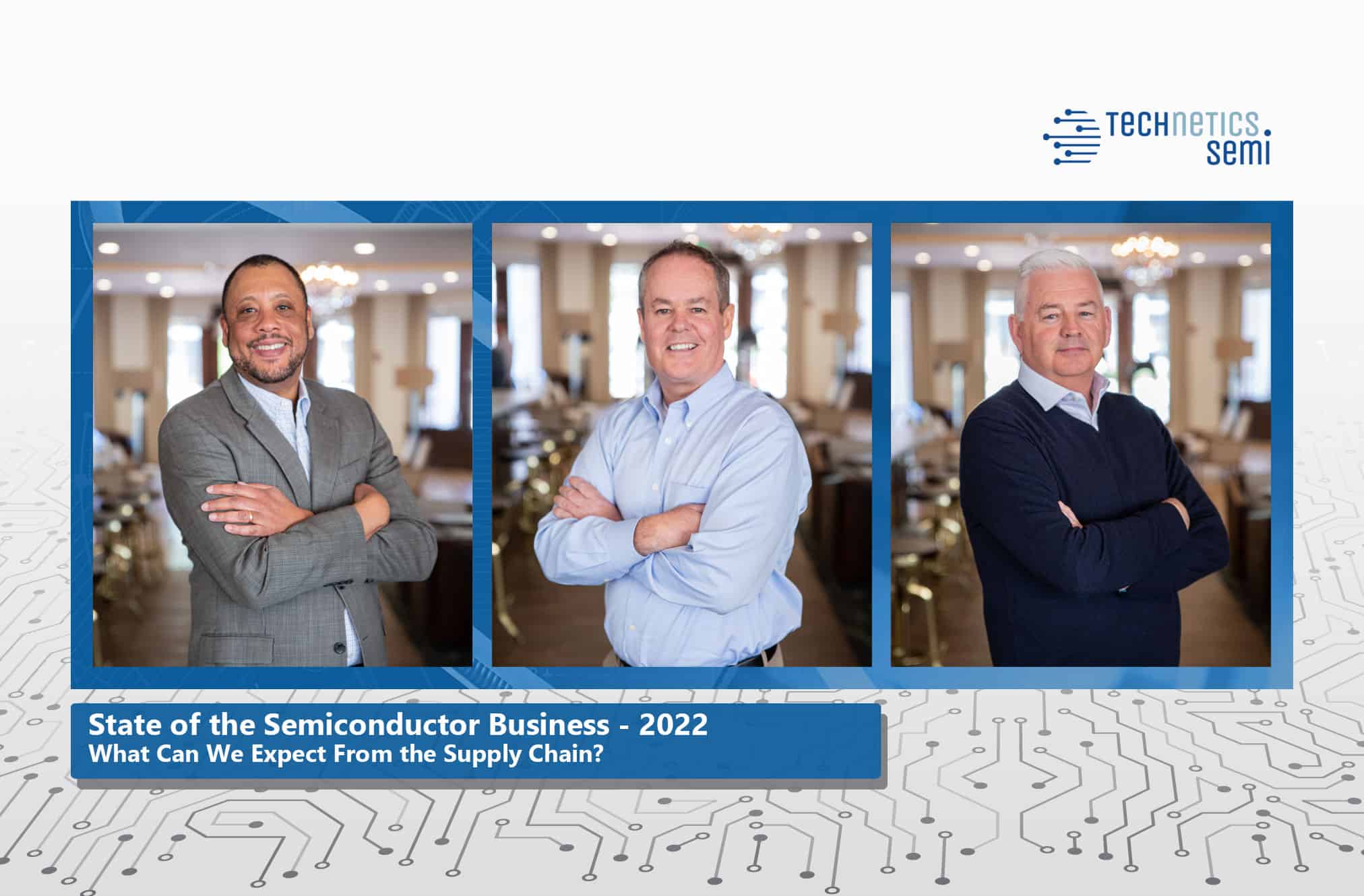 The semiconductor industry has seen an explosion since the COVID-19 pandemic began. What started as a downward trend that experts thought would flatten out ended in a growth curve up by 25% in 2021 and is expected to grow ~10% in 2022.
What does this mean for the industry? Will it ever slow down? Due to the demand for semiconductor chips—integral to our phones, PCs, gaming systems and even vehicles – the market has dramatically increased.
Kelvin Standifer, Angus McFadden, and Paul Cuddyer of Technetics Semi come together to examine the current state of the market and the future shifts we can expect over the next year and beyond.
There is a dramatic demand in the semiconductor chip market due, in large part, to the number of people working remotely. This shift in the way people work requires more bandwidth, and there's a huge rush to do it now. McFadden said, "because of more devices, there's more data." He also calls this the "new industrial revolution for electronics."
Currently, this upward cycle looks to continue, and the automobile industry is markedly changing how they do things. Daimler, Volkswagen and even General Motors are all dealing with the fallout from the 2020 business decision to reduce the number of chips purchased. Demanding 6% of the semiconductor market and growing, some automobile manufacturers are now taking the initiative to produce their chips.
The industry is seeing significant changes with infrastructure, with Intel announcing a $20 billion factory investment in Arizona and another in Ohio for $20 billion. This expansion is paving the way for the requirement for more engineers and skilled manufacturing employees. The ongoing geopolitical pressures from the east also contribute to this need to build.
Supply chain issues in the construction market are plaguing the semiconductor industry's development plans. What McFadden calls the "mud to silicon" process is now becoming more challenging to achieve due to the building sector's tightened supply chain.
Standifer and McFadden agree the fabs will not be capable of creating an overcapacity of semiconductors due to the current challenges. McFadden also brings up data centers, the metaverse, cloud computing and AR and AI consuming ample amounts of bandwidth, and right now, it's not looking to slow down within the next ten years.
It's an industry that looks to continue an upward trend. About five years ago, it was close to a $400 billion industry, and since then, it's grown 50% to a staggering $600 billion. Estimates show it has the hallmarks to be a trillion-dollar industry by 2030.
"It's all going to tie together, and I don't think it's going to slow down," McFadden says, "Like when Henry Ford started the car. Look at where we are today."