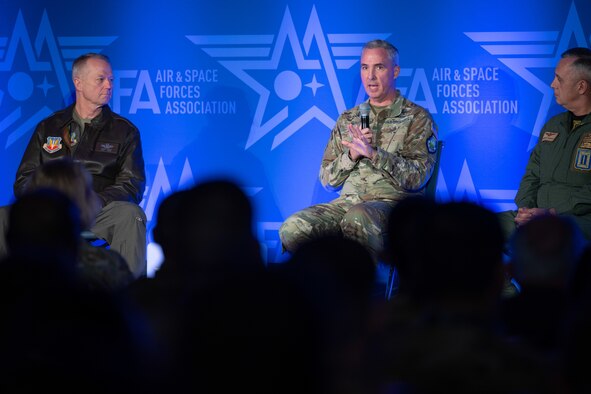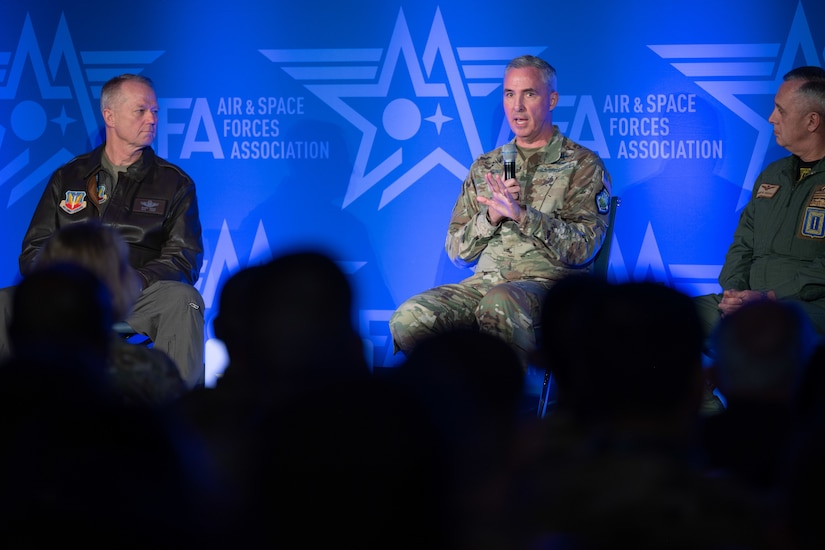 AURORA, Colo. — Lt. Gen. Stephen Whiting, commander of Space Operations Command, took part in a joint all domain command and control panel, during the Air Force Association's 2023 Aerospace Warfare Symposium in Aurora, Colo. on Mar. 07, 2023.
The Air & Space Forces Association is an independent, non-profit, professional military association for the United States Air Force and United States Space Force.
During his panel discussion, Whiting took the opportunity to identify several important space topics, including the growing threat in the space environment.
"Our number one priority is to prepare a combat-ready, ISR led cybersecure space in combat support forces," said Whiting. "Combat readiness is the coin of the realm at SpOC, we are the Space Force service component to U.S. Space Command, providing probably 95% of their capabilities."
Whiting discussed how part of preparing for growing threats in space means working with the Space Force's other Field Commands, like Space Training and Readiness Command or STARCOM.
"Partnering with Space Training and Readiness, who performs our warfare center functions, provides us with venues for advanced training," Whiting stated.
Whiting's comments are in line with Gen B. Chance Saltzman's "theory of success", which calls for competitive endurance and the need for space superiority in the face of evolving adversarial threats.
Along with the growing threat in space, Whiting also touched on the importance of junior officers and the enlisted corps within the Space Force.
"I come to work every day, so thankful for our enlisted Guardians, junior officers and the Airmen and Civilians that work alongside us," said Whiting. "You give them a mission and they know what to do, they'll figure it out, and they do it the right way."
Whiting was accompanied on the panel by Air Combat Command Commander, General Mark D. Kelly, and Italian Air Force Operational Forces Commander, Lt. Gen. Alberto Biavati.
The panel participants also discussed the challenges of classification in space, which has become a hot button topic in recent months.
"Certainly, commercial space is helping to overcome some of those challenges. Commercial space in the west is so innovative right now," Whiting told the audience. "We're able to provide commercial capabilities in support of Ukraine that are fantastic. They get around all those security challenges, and we're seeing the power of high-quality ISR."
During his closing remarks for the panel, Whiting touched on the importance of partnership.
"Our international partnerships, like the one we have with Alberto, are invaluable," Whiting commented. "The countries we are watching, like Russia and the Peoples Republic of China, they don't have those relationships, and we're seeing the power of how a coalition can support a country. We just have to continue to foster those relationships."
Space Operations Command is the fight-tonight force and first Field Command of the U.S. Space Force. SpOC's mission is to protect America and our Allies in, from, and to space… now and into the future.