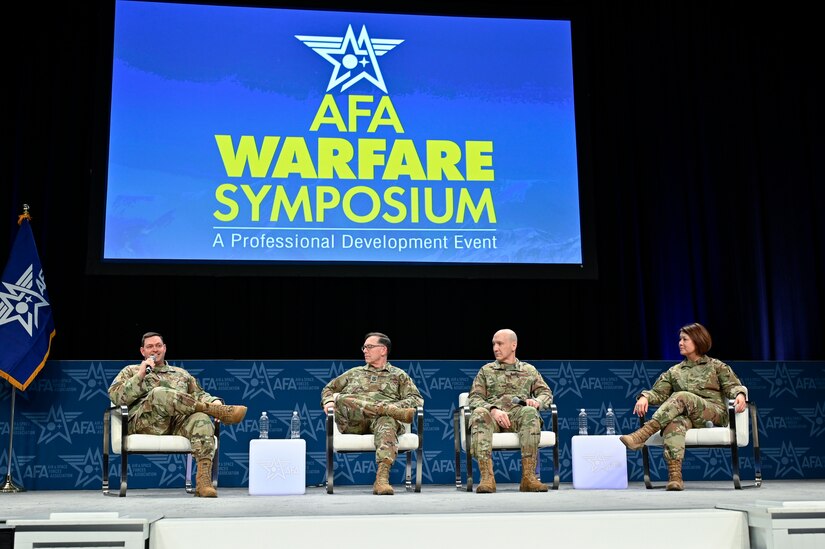 AURORA, Colo. (AFNS) —
Senior leaders from the U.S. Air Force and U.S. Space Force gathered to provide their perspectives on the Department of the Air Force's abilities to build and maintain forces during a panel titled "Warfighting on the Homefront" at the 2023 Air and Space Forces Association Warfare Symposium March 6.
Chief of Space Operations Gen. Chance Saltzman; Air Force Vice Chief of Staff Gen. David W. Allvin; Chief Master Sgt. of the Air Force JoAnne S. Bass; and Chief Master Sgt. of the Space Force Roger A. Towberman all weighed in on the importance of community and the power of personal narratives to inspire Airmen and Guardians to serve.
"There are strengths in being a mobile force," Saltzman said. "My first duty station as a missileer, I remember we were all there at the same time of life. We had the same struggles, the same challenges from life, and we were learning from each other continuously. That community that was teaching me about how the Air Force works let me know I was not by myself in this life. It's that extended family that helps you get through all the trials and tribulations."
Allvin discussed how shared community appreciation and encouragement influenced his early experiences in the Air Force.
"Upon arriving at Grand Forks Air Force Base, North Dakota, we could not hear enough from the community about how the base helped with the flood of 1997," Allvin said. "When 9/11 happened, the very same thing happened again – this idea that there is so much more that connects us as a community, than doesn't."
The panel spoke about the Fortify the Force Initiative Team being a critical, barrier-breaking effort.
"Nothing makes challenges more difficult than dealing with problems on our own," Towberman said. "Stop trying to deal with it by yourself. You have teammates and families to help you. It's why Guardians asked for connection as a core value."
The panel also discussed quality of life and areas that need work.
"When we are talking about supporting families, we are talking about quality of life," Allvin said. "If you have a rock-star team, you help the all-star team…The goal is to help the team reach their full potential."
The panel wrapped the discussion up with thoughts about the personal factors that drive Airmen and Guardians to serve and how to promote increased retention.
"Each person has their own story," Saltzman said. "The things that got you into service are not always the things that make you stay. We have to continue to tell our stories."
Allvin echoed the need for servicemembers to tell their stories, so their communities gain a better understanding of what it means to serve.
"Tell those stories," Allvin said. "You are the value proposition."
Bass ended the panel with a challenge for those serving.
"Right now, we have five generations serving in our Air Force," Bass said. "We all joined for different reasons but come together to support and defend our homeland. It doesn't matter if you serve four years, eight years, 12 years or 28 years – what matters is that you move the ball and make our Air Force better."