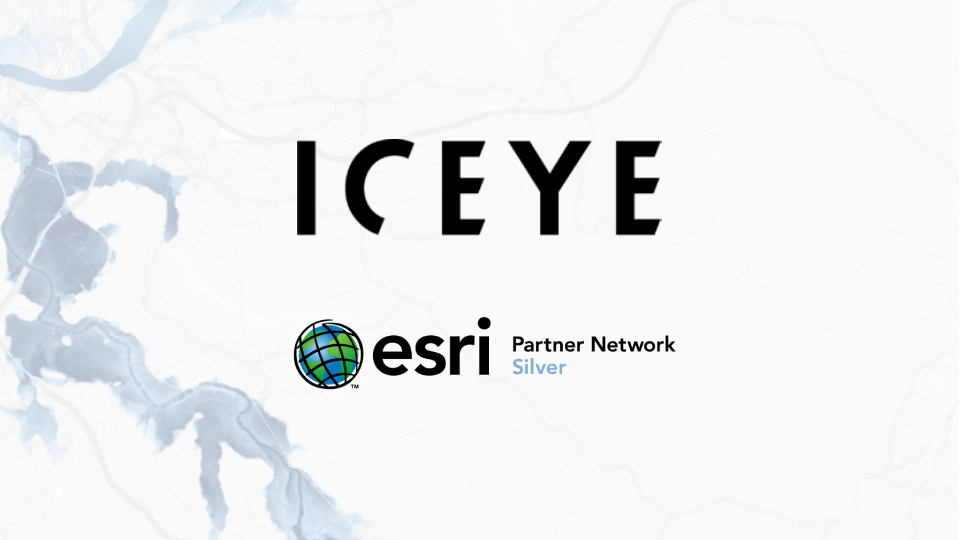 Helsinki, FINLAND – March 6 2023 – ICEYE, a world-leading provider of natural catastrophe solutions and insights, has received the Top Startup Partner award at the 2023 Esri Partner Conference (EPC) held in Palm Springs, California March 4–6, 2023. This award was presented to ICEYE for substantial opportunities for growth with Esri.
ICEYE owns and operates the largest constellation of radar-imaging satellites, providing companies with an entirely new level of persistent monitoring for any location on earth, and delivering reliable, consistent, and accurate hazard data for natural catastrophe events in near real-time.
Through its partnership with Esri, this ground-level insight, including granular flood extent and inundation measurements, is available instantly to Esri customers via Esri ArcGIS software, to support critical tasks, including faster recovery efforts, more accurate resource allocation, more targeted communications, and speedier insurance claims payments.
Esri is the global leader in location intelligence, with a network of over 2800 partners around the world. The award winners are organizations that have demonstrated innovative and creative ways to solve complex problems by using Esri's ArcGIS software and those who have done exceptional work in advancing geographic information system (GIS) technology. ICEYE was one of 27 Esri partners that received an achievement award at the conference.
"Our partnership with Esri enables companies to unlock the full potential of ICEYE's natural catastrophe insights," said Paul Barron, Global Head of Partnerships, ICEYE. "By inserting our hazard data directly into the decision-making processes of frontline organisations, ranging from government agencies and emergency responders to insurance companies, we can facilitate a much more data-driven, rapid response than has been possible before."
"Esri congratulates ICEYE on their 2023 EPC award in recognition of their innovative work leveraging ArcGIS software," said Robert Laudati, Director of Global Partners and Alliances at Esri. "We are proud to partner with ICEYE to foster the use of Esri technology in support of our mutual customers."