Leveraging its technological and commercial expertise in bringing innovative photonics products to market, Cailabs today announced a €26 million funding round to support the rapid expansion of the company's laser communications and optical ground station business.
The funding round was led by Luxembourg-based growth stage investor NewSpace Capital with the support of existing investors: Definvest (specialized equity fund of the French Ministry of the Armed Forces, managed by Bpifrance in consultation with the French Defense Procurement Agency), Starquest, Innovacom, Safran Corporate Venture and Crédit Agricole Ille et Vilaine Expansion. Cailabs has also been selected to receive support from the European Innovation Council fund for innovative deep tech companies.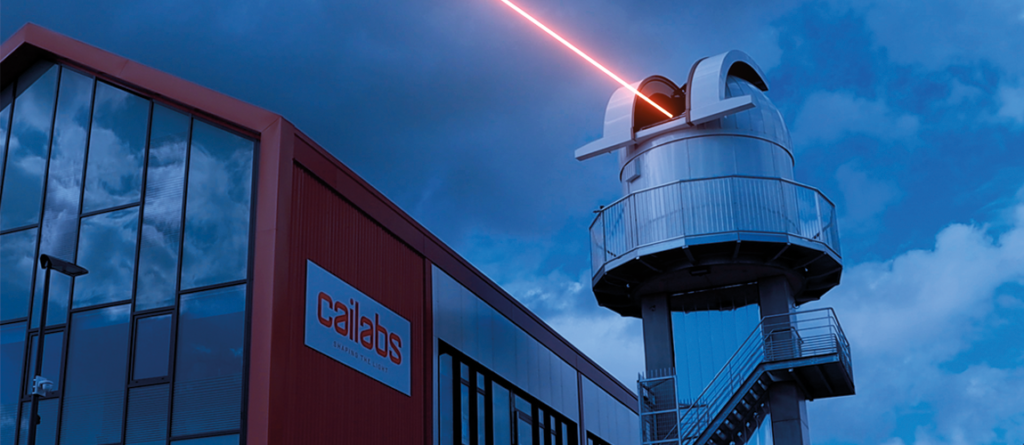 The space sector is currently undergoing a real revolution, with the number of satellites in orbit expected to exceed 100,000 by 2030. Consequently, laser communications are set to grow exponentially to avoid the growing congestion of radio frequencies. Cailabs' innovative optical ground station design, built on the expertise gained from the development of previous product lines and the unique capability to compensate for atmospheric turbulence, will make it possible to make those connections reliably and affordably.
Founded in 2013, Cailabs' original field of expertise was long distance telecommunication, leading to the 2017 world record for transmission capacity through a single optical fiber with the Japanese operator KDDI. The company has turned this record-breaking technology into a product for local networks, upgrading more than five thousand links around the world in hospitals, universities and factories, and has expanded its product mix further with innovative laser-based material processing solutions. All of these successes are based on Cailabs' unique optical core technologies and its strong team, which are now focused on delivering ground-breaking solutions to the challenges of laser communication through the atmosphere.
"We are pleased to welcome NewSpace Capital to Cailabs. With their support and the continued backing of our longstanding partners, we will become the market leader in optical ground stations and be able to extend our offer to naval, aeronautical and land links."
said Jean-François Morizur, co-founder and CEO of Cailabs.
"NewSpace Capital is focused on growth stage companies leading innovation in the space ecosystem. In this respect, optical communication is a key area of focus, and Cailabs is one of the most exciting companies in the industry. Several factors prompted us to lead this funding round: a truly stellar team, the company's ability to master its unique technology, multiple use cases in the photonics industry and beyond, proven track record to transform technology into commercial products, and therefore, a clear pathway of becoming a market leader in the coming years"
said Bogdan Gogulan, CEO & Managing Partner of NewSpace Capital.
"Through its numerous technological successes, Cailabs has demonstrated its expertise in light shaping and its ability to diversify its application markets. Committed to supporting companies in the defense industry, the French Ministry of the Armed Forces and the French Directorate General of Armament strongly support this new funding round, which will enable Cailabs to achieve its development goals,"
said Emmanuel Chiva, Head of the DGA.
"This new round of funding underlines the major progress made by Cailabs, a very promising NewSpace player in the field of optical communications, supported by Bpifrance and the French Ministry of the Armed Forces, with the objective of becoming a world leader."
said Nicolas Berdou, Investor for the Definvest Fund at Bpifrance.
"We have continuously supported Cailabs since 2016, because we identified in the company a very rare combination of unrivaled scientific expertise and strategic vision. No constellation operator in the booming SpaceTech industry will find an alternative to the unique technology proposed by Cailabs. Many applications are clearly connected to environmental protection, which is at the core of our action, such as detecting highly polluting methane emissions, or monitoring the CO2 / O2 balance in forests or the hydric stress of crops."
said Harold Dumeurger, Investment Director at Starquest Capital.
"We are very proud of the progress made by Cailabs. The success of the company, which is now one of the most innovative players in the space sector, proves that support for basic research projects can lead to real industrial success. We are very happy to continue to support them in their development"
concluded Frédéric Humbert, Innovacom partner.
The law firms Joffe & Associés (Thomas Saltiel, Camille Malbezin and Carla Ferron) and Forrest Advisers (Ramsey Forrest) accompanied and advised the parties during this operation.